4 Free Samples of Airborne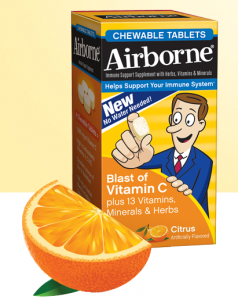 Right now, you can get a Free Sample pack from Airborne, where you can get 4 different Free Samples to try. To request for the sample, visit their facebook sample promo page here, click "Like", click on the "Get 4 Free Samples" then completing the form on the following page. In the Free Sample pack, you'll get to try these 4 samples and flavors: Plus Energy Orange flavor, Hot Soothing Mix with Lemon, Chewables in Berry, and Airborne Effervescent.  The sample ships pretty quickly and just in time for the cold season.
Please allow 6-8 weeks for delivery. While supplies last. Sample offer only available to residents of USA. Limited one free sample pack per household. Must be 18 years or older to receive this sample. Promotion sponsored and delivered by Airborne.